About VDiversify
VDiversify.com is an Indian blogger and online publication company focused on blogging, SEO, lifestyle business ideas, business ideas, marketing, affiliate marketing, make money online, online business ideas and so on.
At VDiversify, we provide all content related to blogging, SEO, affiliate marketing, business ideas and so on in the form of blog posts. We help our Customers, Visitors and Audiences to find the best readable content and the best blog content that helps them to become an entrepreneur and make money online.
VDiversify was launched in April' 2020.
Our Vision
To become the best content providing company in the various categories, especially in the field of blogging and to help new bloggers and young minds to develop the mindset of entrepreneurship, so that they can start their startup.
Our Mission
We make it easy for anyone, especially young minds in the world to find the best quality content and high-quality content through our blog posts and videos in the fields of blogging, SEO, business ideas, digital marketing, online business ideas, passive income ideas, make money online and so on, there by proving the top most reliable support that our audience requires.
Follow Us On Our Social Media Platforms
Know More About Us —
VDiversify is owned by VDiversify.inc, a start-up with a mindset of entrepreneurship. It aims at diversifying contents over internet. The main purpose of vdiversify.com is to help new bloggers to find all relevant content and support to kickstart their blogging journey and make money online to live a better lifestyle. It has got lots of future plans towards bringing more blogging content in various categories.
The tagline of vdiversify.com goes like this, "transform your blogging journey".
Vdiversify mainly focuses on proving most valuable content for fellow bloggers, new bloggers, entrepreneurs and startups in the form of our blog posts and videos. These contents are purely focused helping young minds to start their own business and emerge as entrepreneurs to start their first startup.
The future plans of VDiversify focuses on providing high-quality content in the fields of blog posts, blogging services, online coaching, online courses, videos, short films, graphic design and animation.
In upcoming days, the company would like to diversify itself towards a content creating company and would like to offer the content to its audience, customers, users and to the people all around world that diversifies everyone's life in everything.
The Man behind "VDiversify.com" is one of the passionate Entrepreneur "Sachin Ramdurg", who is the Founder & CEO of Vdiversify.inc. He started this company in view of helping the new bloggers, young minds and entrepreneurs to find the best high-quality content on blogging, SEO, business ideas and digital marketing, so that they can start and transform their blogging journey.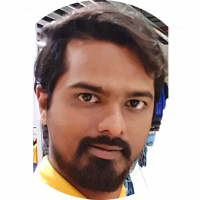 Sachin Ramdurg,
The Founder of VDiversify.com
"The creativity lies within all of us. The passion towards what you do love doing will always bring you the success of the dream of becoming an entrepreneur. We should always remember there is nothing in this world which is impossible"
About Me
"Hey, I am Sachin Ramdurg, the founder of VDiversify.com.
I am an Engineer and Passionate Blogger with a mindset of Entrepreneurship. I have been experienced in Blogging for more than 5+ years and following as a youtuber along with blogging, online business ideas, affiliate marketing, and make money online ideas since 2012.
I have been working on many online businesses and learned a lot which is worth sharing with my viewers, audiences and readers.
I welcome you all to my blogging world to grab best of my experiences and findings, so that you can transform your blogging journey and emerge as an entrepreneur.
Future Plans of VDiversify.inc
Future Plans
The future planning of VDiversify is to become the best content creating company and a digital marketing company that focuses on more solutions and services to its customers, especially in and through,
·      Blogging Tips and Blogging Strategies
·      SEO Tips, SEO Strategies and SEO Services
·      YouTube Tips and YouTube Strategies
·      Coaching and Online Courses
·      Business Ideas and Startup Ideas
·      Web Designing and Web Development
·      Branding, Advertising, Marketing and Social Media Marketing
·      Creative Content Products
·      Graphic Designing
·      Animation and Video Making 
Creative Content Products
VDiversify would like to offer info-graphical brochures, company profiles, advertisement banners, business card designs and magazines for corporate companies and small businesses
Graphic Designing
VDiversify would like to offer and support website building services such as website design and website development for to begin with small companies, small enterprises and small business there by extending it to large and big businesses and companies
Animation and Video Making
VDiversify would like to offer intro videos, corporate videos, advertisement videos, documentary videos, wedding videos, event videos and much more. VDiversify also would like to help and support for small bloggers to get started, small businesses to get started and young minds to start their startups