Welcome To, VDiversify.com – Let's Transform Your Blogging Journey!
Resources We Recommend For A Blogger!
Hostinger is the best hosting provider for beginners as well as for professionals. Hostinger provides cheap web hosting plans and there are plenty of web hosting plans that you can choose from. Whatever the traffic is, the Hostinger is the best web hosting provider.
Kinsta Hosting is the best managed WordPress hosting provider in the world. Kinsta provides multiple managed WordPress hosting plans to choose from. Kinsta is the Premium WordPress hosting for everyone, small or large. Kinsta is the award-winning WordPress hosting platform. Read Kinsta Review.
Follow Us On Our Social Media Platforms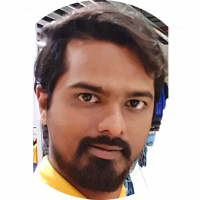 Sachin Ramdurg,
The Founder of VDiversify.com
"The creativity lies within all of us. The passion towards what you do love doing will always bring you the success of the dream of becoming an entrepreneur. We should always remember there is nothing in this world which is impossible"
About Me
"Hey, I am Sachin Ramdurg, the founder of VDiversify.com.
I am an Engineer and Passionate Blogger with a mindset of Entrepreneurship. I have been experienced in Blogging for more than 5+ years and following as a youtuber along with blogging, online business ideas, affiliate marketing, and make money online ideas since 2012.
I have been working on many online businesses and learned a lot which is worth sharing with my viewers, audiences and readers.
I welcome you all to my blogging world to grab best of my experiences and findings, so that you can transform your blogging journey and emerge as an entrepreneur.
Subscribe To "True Food Kitchen Island" YouTube Channel: True Food Kitchen Island
"True Food Kitchen Island" is one of the most loved YouTube Chanel which brings you all kinds Food Recipes, Food Ideas, Food Strategies & Food Tips for Cooking.
Home Cooking is fun and loving. Home is a great place try our Food Recipes on your own. True Food Kitchen Island makes it possible by bringing all kinds of Homemade Food Recipes at your fingertips. It has a great Collection and Playlist of Food Recipe Tutorials in terms of Simple Recipes.
On True Food Kitchen Island, they will be posting all Videos related to Cooking Recipes and Eating different kinds of Dishes. They will also Post Videos of preparing different kinds of Recipes.
Follow, True Food Kitchen Island on Facebook, Instagram, Twitter, and YouTube.